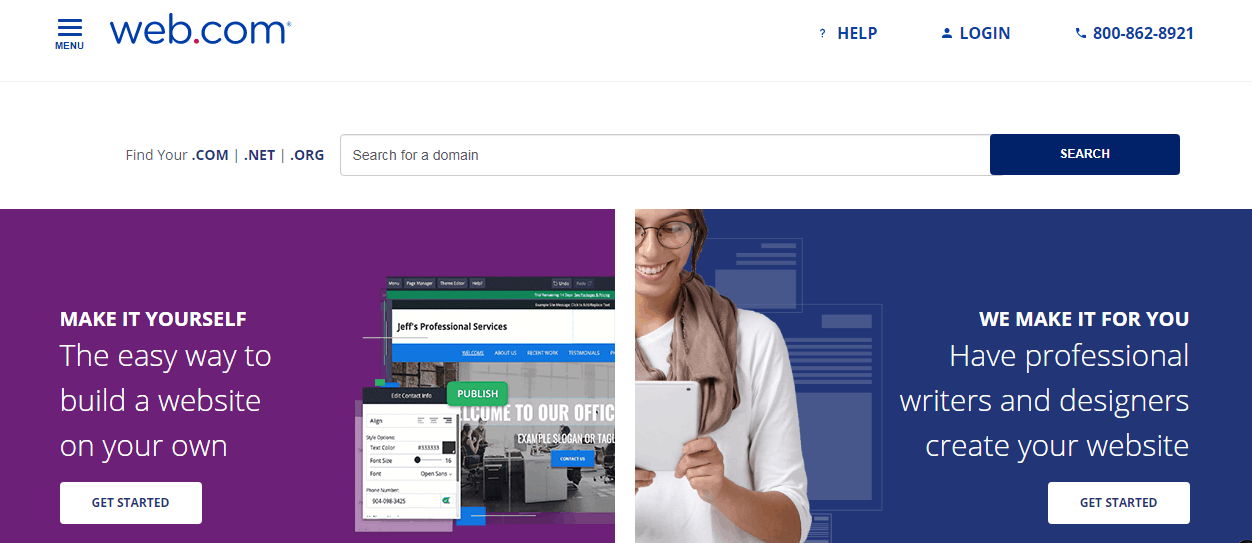 Do it yourself or have it fully built for you, Web.com has everything you need
Web.com market themselves as a one stop shop where businesses can build beautiful websites that will give an excellent first impression to their customers, and even keep them coming back again and again. They provide you with everything you need to create your own custom website, or a free website building service for those who want it all done for them.
Whichever option you choose, you'll have access to a full suite of tools and features that will help ensure your site looks and functions exactly the way you want it to. Web.com has been helping individuals and businesses to build, host, promote and manage their websites for years, giving them the experience to meet your every need.
Why Choose Web.com?
Custom built websites available for free
Full suite of marketing tools to promote your site
Affordable hosting and other ongoing services available
Do-it-Yourself options with hundreds of beautiful templates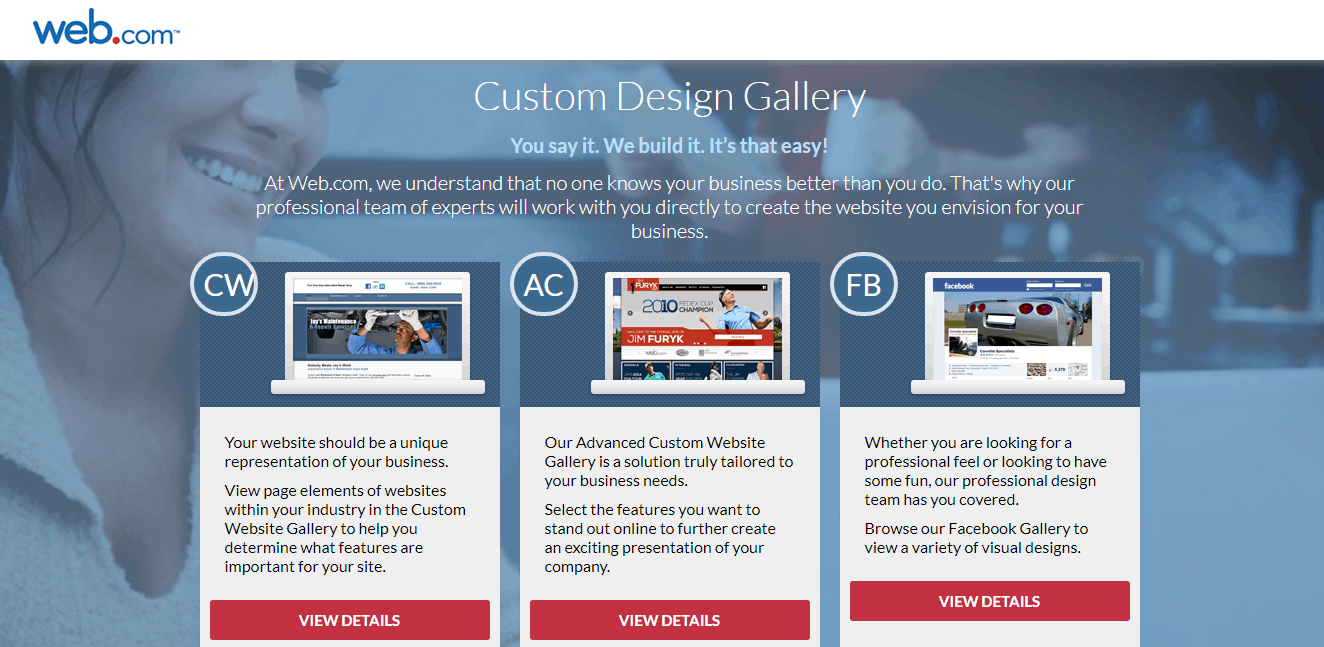 When Web.com says they offer do-it-yourself websites, they don't mean that you have to handle every little thing on your own. They provide hundreds of high quality templates that you can use to get your site up and running quickly and easily. Each of these sites is beautifully designed to meet the exact needs of all their customers.
To make it even better, the templates are quite easy to customize so that you can have a unique site that is all your own, without having to know any code. Everything from the color to the positioning of images is easy to adjust based on your own personal taste. In addition to the excellent selection of templates, Web.com provides you with access to thousands of stock images so you can have high quality pictures that reflect your specific business.
Template Selection
With hundreds of templates to choose from, there is undoubtedly something that reflects your personal style. They have fun templates for personal sites, or businesses that are looking to keep it casual. On the other hand, if you need something more professional looking, there are plenty of great templates for you as well. The overall selection is very good, and I give it a 10/10.
Customization
Web.com makes customizing their templates about as easy as it can possibly be. Most of the time you simply use their drop down menus, or drag and drop template items to where you want them to be. Experimenting with different templates is also just a couple of clicks away, and if you decide to revert back to a previous setting it is always quick and easy.
Multimedia
You can easily import your own images and videos and have them placed right on your site in seconds. The user interface for this is quite simple, and in almost all cases it will be able to automatically adjust the size and shape of your images to fit perfectly within the template. They also have a number of different image sliders with tons of effects to give your site a slick and modern feel.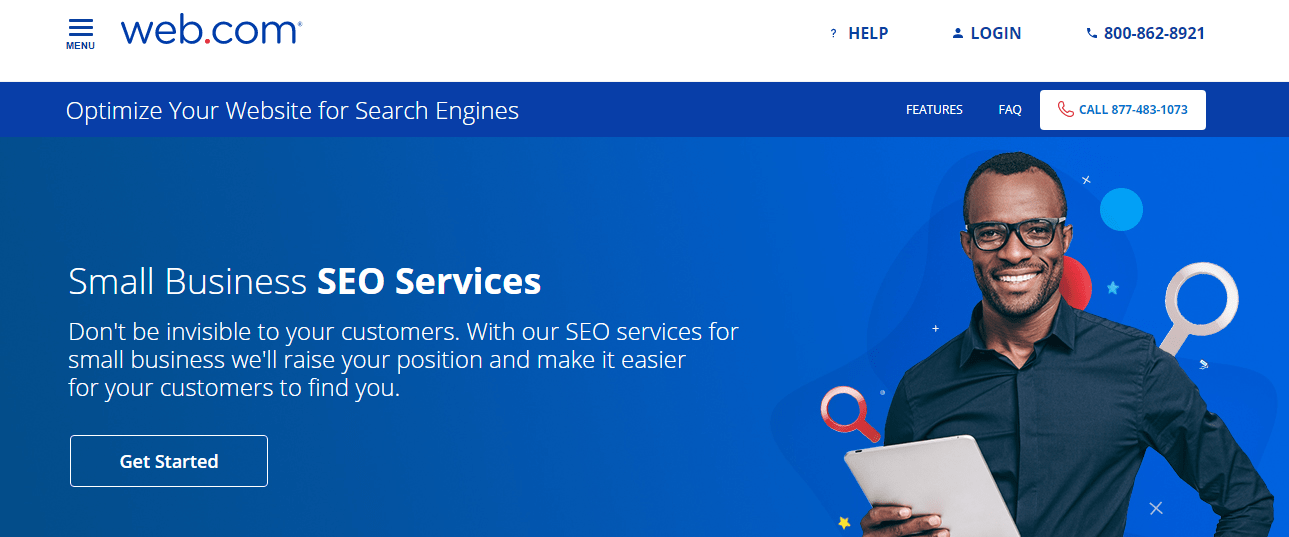 No matter how great your site looks, if people never find it, there is really no point to even having it up. This is why Web.com has such a great selection of high quality features to optimize your page for the search engines (SEO). You can also set up social sharing options like Facebook Boost, for example, which will turn your page into a social platform. They also have a custom online marketing tool to help your site appear on local searches.
If you're looking to sell products online, you'll love their eCommerce options that allow you to list products in seconds and get paid instantly. For businesses, there is really no easier way to get a modern online sales presence than with the Web.com platform.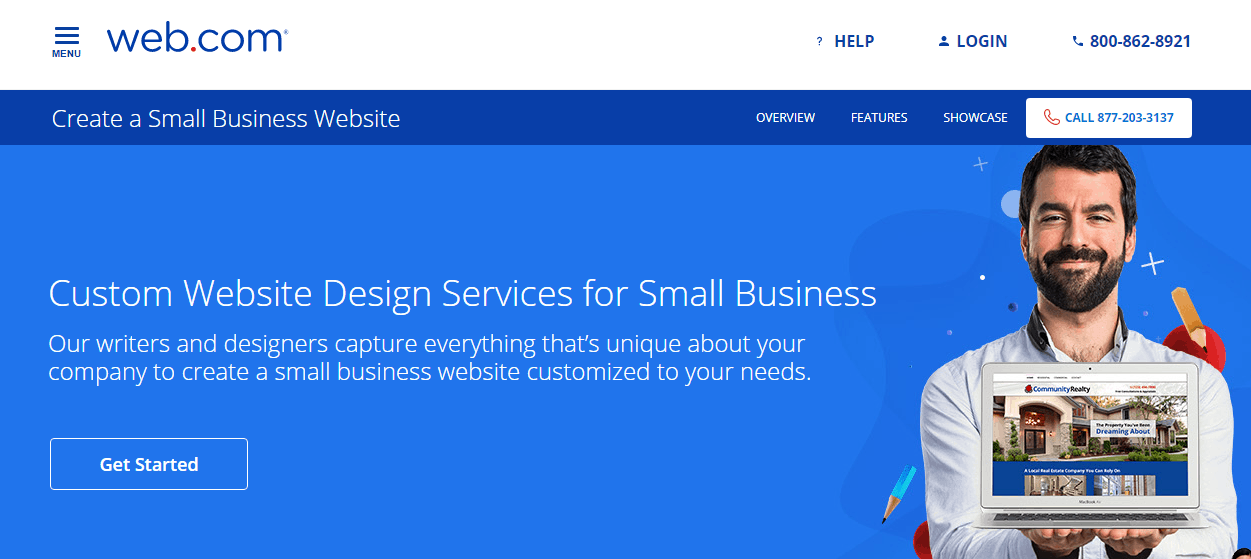 Everything designed with the user in mind
Web.com seems to know that if you knew how to do advanced web programming, and had the time to take on this type of project, you wouldn't be using their platform. This is why they make their user interfaces as easy as possible. Virtually everything works off of one-click menus or drag and drop features so no matter what type of website creation experience you have, you'll be able to make a beautiful site in no time.
Everything on the web.com platform has a very intuitive look and feel, and they seem to put all the commonly used features in the easiest to access spots. The bottom line here is the entire platform is slick and very user friendly.

Excellent technical support and guidance from true web professionals
Just like the rest of the features, the support provided by Web.com is designed to make everything as easy as possible for you. They monitor all their websites using advanced systems that will allow them to be notified of any issues, often before you even realize there is a problem. Their technical teams will quickly respond to tickets as well as their technical support phone line, which is available 24/7.
In addition to tech support, they also offer a wide range of how-to guides and other tutorials for people who want to learn to do things like update their site or make additional changes.
Overall, the support they offer is excellent.
Simple, affordable pricing with lots of premium services
Web.com does their best to keep everything simple, and that includes their pricing model. You can have them build you a great looking, custom website free of charge. If you like it, you just pay for the general hosting and upkeep of the site. This simple fee structure includes regular monthly updates, ongoing marketing and much more.
Using their do-it-yourself platform you can save some money each month, while also getting the flexibility to make updates and changes any time you want. This is an excellent option for those who like the more hands-on approach, and want to save some money at the same time.
Pros
Tons of beautiful templates
Easy to customize websites
Free website building done for you
Huge library of stock images available
SEO services available
Social media integration included
Dedicated account manager
Cons
Some premium services have pricing higher than you might expect
Potentially overwhelming number of extra features available.
Overall there is really very little negative to say about Web.com. They provide an excellent service that will help you get your site up and running quickly and easily. Despite the simplicity of what they offer, their sites always look very professional, and can be updated at any time without additional fees. Their user interface is easy to navigate and their customer service professionals are friendly and knowledgeable.